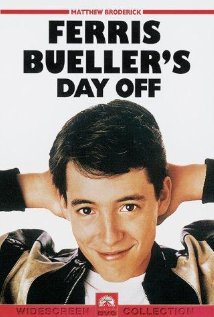 Ferris Bueller's Day Off is a film written and directed by John Hughes. It was released in 1986, and ever since it has been one of the most popular and classic teen comedies of the 80s.
Ferris Bueller skips school, and has fun in downtown Chicago with his girlfriend Sloane Peterson and friend Cameron Frye. Meanwhile, his principal Ed Rooney and envious sister Jeanie Bueller get suspicious of him since he has been previously absent 9 times, so they walk out of school determined to catch him once and for all.
Characters
Edit
Songs that appear in the film include:
Love Missile F1-11 by Sique Sigue Sputnik.
There is also a novel based on the movie.